Kunio Watanabe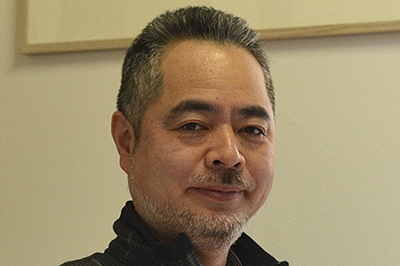 Profile:
Being drawn to the feeling of creating things with my own hands, I attended an art school with my focus in engineering. I took courses in pottery, metalworking, and dyeing.
I was introduced to ceramics from my first touch of lacquer. Touching the clay and spinning the potter's wheel...
Being shocked by the transformation of the work after it was fired at high heat in the kiln...
This process of creating works was intriguing. Observing the way things could be completely reborn from the fire made me feel that this is something that was unique to this material.
After 16 years from that time of engaging with ceramics, I presented my first celadon porcelain. I developed my own style of enamels after being introduced to the expression in overglaze. A special aspect of this work is the use of geometric elements such as straight and curved lines.
The overlapping, watercolor-like colors are also fascinating. The pot is repeatedly fired after every layer of coloring. Adding gold and silver gives it a matte texture as it gradually comes close to the image in my mind. I have an internal debate while painting and firing, sometimes as many as 5 to 6 times while seeking out the potential of enamel porcelains, but if my work is able to strike a chord of joy in one's heart, then I am more than overjoyed.
Field:
Pottery, porcelain

Education:
1996 Graduated from Tokyo University of the Arts, Graduate School of Fine Arts and Ceramics
Activity history:
1999- Presenting works at Takashimaya, Mitsukoshi and many other venues
2006 Established a workshop in Lake Yamanaka village, Yamanashi Prefecture
Awards history:
1999 "The Encouragement Award" in the Tokai Traditional Craft Exhibition
2000 "The Chunichi Award" in the Tokai Traditional Craft Exhibition
2009 "The Golden Prize" in the Otaki Hokkaido Ceramics Exhibition
2010 "The Grand Prize, Hokkaido Governor Award" in the Otaki Hokkaido Ceramic Art Exhibition
2011 "The Japanese Craft Society Award" in the Traditional Crafts Ceramics Club Exhibition
2012 "The Encouragement award" in the Modern tea ceremony-for use and shape- Kikuchi Kanjitsu Memorial Tomo Museum
2016 "The Excellence Award" in the Tableware Festival
2016 "The Encouragement Award" in the Ceramic Art Exhibition. Japan Ceramic Art Association
2016 "Honoable mention" in the Present-day pottery Award for Hagi Prize IV
2018 "TOKI Oribe Encouragement Award" in the modern tea utensils Exhibitionin Toki City